Demolition
EnviroBate is your trusted choice for Selective Demolition. Our trained crews get the job done right the first time, every time, safely, efficiently and cost effectively. We utilize dust control engineering methods on every project to ensure the safety and cleanliness for workers and clients. If you run into asbestos, lead or mold on your demo projects then our trained crews are there to help you out.
EnviroBate is a proud partner of the National Demolition Association.
We have been constructing containment to control air for 30 years so you can trust us to be your clean demo partner. We will keep your area safe and clean for your client and other trades while providing our large crew to meet your timeline. Please contact Scott Lodico for advice on your commercial or industrial project.
Selective/Interior Demolition
Floor Removal/Grinding
Floor Preparation
Specialty Demolition
Saw Cutting and concrete removal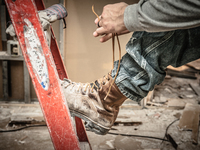 12 Images