Interior Poly Protection
When the interior contents of your building need protection from work on the roof or other projects, call EnviroBate, the containment specialists. EnviroBate can provide leak proof poly protection that ensures the safety of the contents inside from dust, water or any miscellaneous debris.
EnviroBate has been controlling airborne particles for 30 years. We are experts in everything from simple small interior demolition dust protection to large scale asbestos containments. Building containments is a skill that we are most efficient and skilled at to keep your work area controlled for the duration of the project. Additionally, movement and filtering of the air comes second nature to us as we have been doing it under the most critical conditions for decades.
Call EnviroBate for a proposal to help you keep your work area safe.
Floor protection
Air Filtration
Poly Barriers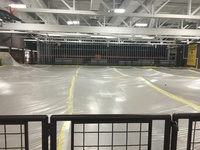 3 Images