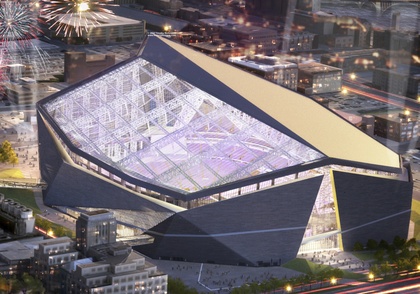 EnviroBate's Role in New Vikings Stadium
Before the Minnesota Multi Purpose Stadium could rise, the Hubert H. Humphrey Metrodome had to come down. EnviroBate was there in the Metrodome's final weeks. Our team successfully performed this work on behalf of the building owner, the Minnesota Sports Facility Authority, under a meticulously orchestrated timeline managed by Mortenson Construction.

EnviroBate's performance on the Metrodome's work was the driving force behind why we were tapped to remove the upper tier deck of the stadium. Specifically, one aspect of our work was to remove 31,000 of the Metrodome's iconic cobalt blue chairs.