Residential Heating Systems
Breathe easier, you chose EnviroBate for your home
Suspecting or discovering asbestos in your home heating system can be frightening. Don't panic. EnviroBate has 30 years of experience in providing the highest quality abatement services. We deliver the benefits that matter most to residential clients: safety, experience, certified, fast, compliant. Last year, EnviroBate's Residential Team successfully completed more than 600 home projects in the Greater Twin Cities area.
Step-by-Step: How we'll work with you.
Use caution. Do not touch, disrupt or remove the problem without professional consultation. Take pictures of the heating system and connecting pipes.
Call EnviroBate at 612-729-1080. We'll ask you to describe the problem in detail and give you professional advice about your situation.
Free consultation. An experienced project manager will visit your home to review the suspected problem. Expect an on-time visit and an honest evaluation about the problem's severity and urgency.
A plan. We'll provide a written proposal with recommendations, cost and timeline.
Safety measures. Prior to beginning contaminate removal, our Certified Site Supervisor will explain the removal process – foremost, our strict worksite safety and clean-up procedures.
Final inspection. Our Certified Site Supervisor will conduct a final inspection to ensure your project meets all regulatory standards.
Qualifications and credentials
Licensed by the Minnesota Department of Health
Bonded and Insured
Certified WBE, SBE and TGB
State-Certified Union Supervisors and Workers
Company Safety Program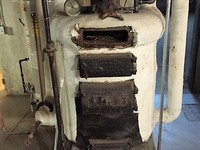 4 Images