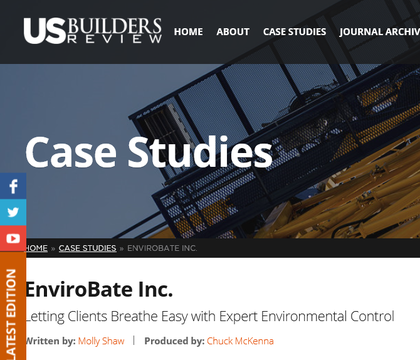 EnviroBate in the US Builders Review
Wednesday, November 19, 2014
EnviroBate was featured in the winter edition of the US Builders Review. We are proud to have worked on projects with partners such as J&J Contracting, MN Laborer's Union, the association of Women Contractors & Women's Business Development Center.
_______________________________________________
EnviroBate Inc.
Letting Clients Breathe Easy with Expert Environmental Control
Minneapolis-based commercial and residential abatement contractor, EnviroBate Inc. (EnviroBate), has been delivering expert environmental control since 1989. For nearly 25 years, EnviroBate has served a wide range of clients, specializing in asbestos, mold, lead abatement and indoor air quality. The company successfully completes hundreds of unique projects annually with a highly trained, industry-leading union workforce.
Jerry Larson founded EnviroBate and grew it into a strong regional contractor before selling the company to the wife and husband team of Heidi Weaver and Mark Zoia, current owners of EnviroBate.
New Ownership Brings New Expertise
Weaver and Zoia, who were initially attracted to EnviroBate's strong reputation and potential for growth, assumed ownership in December 2011. "I have extensive corporate retail experience most recently with Target Corp. and Mark has experience in the health care industry, most recently with UnitedHealth Group," shares Weaver. "We were both interested in owning and running a small business so when the opportunity came through a family member in banking who had worked with Larson we jumped at the chance."
While the pair was new to the construction industry, Weaver says there has been good synergy from the get-go. "It's been a good blending of skill sets given the tremendous depth of specialty construction experience we have across our office and field team," she explains. "It's been exciting learning this business from the people around me, while also being able to leverage my past management experiences in retail, philanthropy and public relations."
Unlike the Rest
With Weaver at the helm, EnviroBate proudly became a certified woman-owned business at the local, state and federal levels in 2013. "EnviroBate has long been an Equal Opportunity Employer and retained a diverse workforce; we've hovered around 40 percent minority employees for several years now," says Weaver. "We strive to walk the walk, and actively pursue M/WBE suppliers and participate in M/WBE and EEO educational and networking forums. This is a significant part of our company culture. We believe this is the right thing to do and it also strengthens our business for the future."
Weaver says she continues to learn every day from the EnviroBate team. "I've learned that the depth of experience at this company and our longevity, which is not a guarantee in this business, truly set us apart," she explains.
EnviroBate is among the largest environmental remediation firms in the Midwest, averaging more than 80 union employees across office and field operations. "Our work is highly regulated by state and federal agencies, given the hazardous materials we deal with," notes Weaver. "One of the primary reasons EnviroBate has been successful for the greater part of a quarter century is that our company complies with regulations; period. We believe that any other business strategy may yield short-term profits, but will eventually undermine our long-term success."
EnviroBate fosters learning opportunities for its employees, allowing each to go above and beyond simply maintaining necessary licenses, certifications and training. Ensuring success, EnviroBate recently partnered with the Laborers LECET program in 2013 to provide Pro 10 professional training for its entire workforce.
In-house Diversified Service
With the expert team to carry it out, EnviroBate offers a range of extensive in-house service for residential and commercial clients throughout the Midwest, mainly in Minnesota, North Dakota and Wisconsin. "We're fully licensed in five states," details Weaver.
The company's core services include asbestos and lead abatement, mold remediation, duct and HVAC cleaning, interior demolition and specialty cleaning. Every year, EnviroBate serves thousands of customers across industries, from corporate to educational, government to health care and housing and retail environments.
"We are one of the few players that serve both the commercial and residential markets," reveals Weaver. "We're increasing our focus on interior demolition, because we find that it makes sense for many of our customers to have one contractor perform abatement or remediation and then have the same team move into the next phase of light demolition."
Sensitive Environments
The size and scope of EnviroBate's work varies from removing a few feet of asbestos pipe in a tiny residential basement to abating and demolishing vast infrastructure from the Twin Cities Army Ammunition Plant, an inactive industrial complex, including dozen of buildings across nearly 2,400 acres.
"It's been amazing to witness the enormous range and complexity of these jobs," says Weaver. "Our team skillfully balanced doing abatement work at a cultural icon, which remained open to its more than 600,000 visitors per year, mind you, to duct cleaning for an occupied chemical dependency treatment facility."
At the Warren E. Burger Federal Building and Courthouse, EnviroBate performed north of $1 million in asbestos abatement while meeting post 9/11 security parameters for the multitenant government site. "This project encompassed 250,000 square feet of abatement, seven floors of fireproofing, floor tile, pipe insulation and lead paint," notes Weaver. "Background checks were required for all of our staff members and the scope of work changed dramatically throughout the job, but we stayed ahead of schedule and ensured other trades were able to start on time."
While navigating a broadening spectrum of incoming projects, EnviroBate has improved its safety record each of the past five consecutive years. "EnviroBate has always focused on safety, but we've been more intentional about strengthening our safety culture the past few years," shares Weaver. "We follow established best practices, but also infuse our own EnviroBate twists. For instance, we introduced our own safety tagline this past year, Keeping Each Other Safe, and purchased ergonomic field equipment based on feedback from our employees."
Weaver is proud to note that 2014 marks 25 years in business for EnviroBate. As the company fast approaches this milestone, Weaver says EnviroBate is positioning itself for future success in part by adhering to its legacy of regulatory compliance, operational integrity and positive safety record. While the company is keen to carry forward the traits that have earned its success and reputation to-date, Weaver says that isn't enough to ensure EnviroBate's future success.
"We are aware that much of our core market is finite, in that once we abate asbestos or remediate lead paint in a facility that work won't come back," she explains. "So we have intentionally started to add on services such as interior demolition. We're strengthening our team, our processes and capabilities by being proactive and open to what's beyond the asbestos horizon."
Under new ownership and a new direction, EnviroBate Inc. continues to bring integrity and industry-leading skill to every job, building on 25 years in expert environmental remediation.