Lead Remediation
EnviroBate can handle any size commercial lead project you can throw our way. We have the lead certified crew and supervisors to be handling your abatement and stabilization needs.
Lead paint can get in the way of any construction renovation project. Whether you need full abatement or just stabilization you need a crew that knows what they are doing. EnviroBate has the licensed crews that can take care of your lead situation by using state of the art techniques and applications.
If your job is a historical renovation with government funding then there is a strong chance our women owned business status will help you accomplish your goals for the project. Please call us to help you navigate through the grant process to ensure you are maximizing the benefits of working with EnviroBate.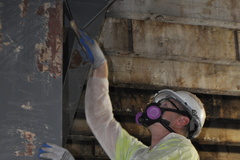 8 Images